Premier Letting Agents in Lewisham London SE13
Area Feature
Lewisham has a wide variety of activities and amenities available to residents and visitors. It is one of the most affordable boroughs throughout London, and as a result there are large numbers of young families and young professionals in the area. The borough is a vibrant and varied place to live, which incorporates a large mix of different cultures.

Lewisham has activities and facilities available for almost every hobby and taste, from the newly developed arts scene to the beautiful open area of Blackheath. The borough also has a good mix of different sporting facilities, promoting a healthy lifestyle for adults and children alike.

History

The borough of Lewisham has got a varied history, which has fed into the continued diversity evident in the area today. Lewisham has been around since the Saxon times and was mentioned in the Doomsday Book by the name Levesham in 1086, although it was known by many names dating back further than 862. The borough had its humble beginnings as a rural village that was remarked on as being difficult to reach.

Lewisham went on to develop an industry in 1816 in the form of the Riverdale Mill, which is one of the few Ravensbourne mills still standing today. The mill itself has been used for a mixture of uses from leather to corn. In 1849 the very first railway to go through the area was built, followed by the local station opening in 1857. This meant that the area was much easier to reach, which could, in part, be responsible for the continued successful growth of the borough. The continued expansion of the area resulted in the market opening in 1906, which is still a popular attraction today.

Things to do

Lewisham is not known for its rocking nightlife - as it is an area highly populated by families, nightclubs are one of the only local amenities it is without. However, transport links allow for easy travel into the heart of the city to make the most of late night city living. The borough is perfect for those who want a bit of a quieter life whilst still being able to benefit from what the capital has to offer. There is a selection of open and green areas, which include local parks and Blackheath; providing a hint of country life in a city environment.

As the area is very popular with families that are a wide variety of options available for children and for family day outs. As well as the usual bowling alleys, go-karting and play centres, there are plenty of other places to go and things to see within a very short distance.

Greenwich Park is a great place to visit in order to escape from the hustle and bustle of city life. It covers 183 acres of land, providing plenty of space for picnics, games and dog walks. As well as beautiful, open green spaces the park offers amazing views that look over the city and the River Thames. The park offers an easy cycle route through London, helping to avoid traffic, meaning it is an ideal place for teaching little ones to ride their bikes.

There is also the Royal Observatory to visit, which hosts London's only planetarium. The Royal Observatory is a fantastic place to take children for a day out and is equally interesting for adults. There is a huge amount of things to see and do and the facilities cater for children of all ages. There are many events hosted throughout the year, which include seminars, lectures and workshops for different age groups.

As well as parks and centres, Lewisham also boasts local markets. The markets are a great place to get produce at reasonable prices and to experience a bit of London street-selling culture. They are always thriving and offer a great deal to see even if you aren't in the buying mood.

There are several markets to choose from, each of which provides a wide range of products and specialist stalls. As well as the monthly Catford Broadway Market, there is the daily Lewisham High Street market, which is a fantastic place to shop for everyday items and fresh produce. The Deptford High Street and Douglas Way market runs on Wednesdays, Fridays and Saturdays and sells both new and used items in a wide variety.

If market shopping isn't for you, there are also high street shops and supermarkets to visit as well as travel opportunities into the city to take advantage of the plethora of retail opportunities it has to offer.

Schools

As Lewisham is such a family orientated area there are a wide variety of well performing schools. Most of the residents in Lewisham manage to get their children into their preferred schools, which helps to cut down the distance which families have to travel to take their children to school.

Figures from Lewisham council from April 2012 show that around 92 per cent of applicants for primary school places who lived in Lewisham were given a place at one of their preferred schools. In similar figures from March 2012 96.7 per cent of Lewisham residents applying for secondary school places were successful in getting a placement in a preferred school.

Transport

Transport in Lewisham, as in the majority of London boroughs, is very good. Residents have access to three train stations: Lewisham, St John's and Ladywell. There are also buses available and local taxi companies. It can take as little as ten minutes to get into Central London, meaning it is possible to live in Lewisham and yet work in the city. It is also possible to take advantage of all that the city has to offer with minimal travel time or hassle. There is also a Docklands Light Railway (DLR) which provides quick access to Greenwich and Canary Wharf.


Property To Rent in Lewisham SE13
A fully furnished double bedroom for single use within a six-bedroom flat, one-bathroom house-sharea and one-private bathroom. Perfectly located in zone 2/3 with easy transport links to central London. Deptford Bridge and Greenwich stations are very close by. - Shared Accommodation - Communal garden - Complimentary WiFi - Complimentary Monthly Cleaning (Communal spaces) - Council tax and Water included - Dedicated Property Manager - Sorry, but no children and no Pets

Tenant Fees May Apply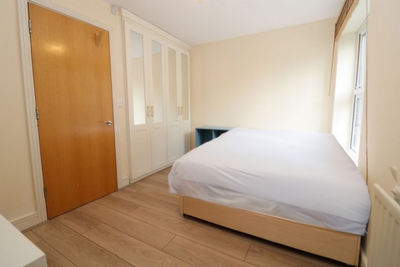 A fully furnished double bedroom for single use within a six-bedroom flat, two-bathroom house-sharea and one-private bathroom. Perfectly located in zone 2/3 with easy transport links to central London. Deptford Bridge and Greenwich stations are very close by. - Shared Accommodation - Communal garden - Complimentary WiFi - Complimentary Monthly Cleaning (Communal spaces) - Council tax and Water included - Dedicated Property Manager - Sorry, but no children and no Pets

Tenant Fees May Apply