London Property News Headline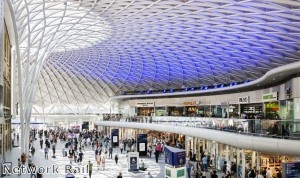 Camden Council
's new development in King's Cross has been recognised as one of the most energy efficient public buildings in the UK.
5 Pancras Square (5PS) has been categorised as "outstanding" under the BREEAM (Building Research Establishment Environmental Assessment Methodology) environmental assessment method system.
In order to purchase the offices, the council's workforce was relocated by selling old and inefficient properties throughout the borough. The building was also marked against ten categories to identify the effectiveness of the building after staff moved in.
The final score for the project was 97.6 per cent, the second-highest BREEAM rating ever attained with the maximum 100 per cent score in four categories: management, transport, waste and land use and ecology.
The project has been designed by Bennetts Associates and developed by King's Cross Central Limited Partnership, after a brief was put forward by the authority.
The property uses sustainable technology to help the council drastically decrease its carbon footprint and ensure annual savings on energy costs of more than £500,000 compared to accommodation used in the past.
Councillor Theo Blackwell, cabinet member for Finance and Technology Policy, said: "5 Pancras Square is a fantastic new public services hub for Camden as well as now being confirmed as one of the greenest public buildings in the UK.
"It also represents Camden's forward thinking nature and our desire to improve services to local residents, reduce our impact on the environment and to reduce costs for our taxpayers."
The development uses an energy efficient ventilation system, along with windows that reduce glare from the sun and capture rainwater to reduce usage of fresh water.
On top of this, the property is connected to a district heating network that provides all of the site's hot water and heating needs. In order to encourage cycling, there is no on-site parking for anyone other than disabled drivers.
Read Article ... Published on 26th May, 2015

RSS News Feed
Recent London Property News